Post by Deleted on May 27, 2015 12:01:17 GMT -5
So hello the boards. Today I am going to predict what I think will happen on the e3. As we all know E3 is the biggest event for the Industry and Nintendo may have great surprises. They already announced that no info on Zelda U, quality of life, NX or the mobile games will be here. We also know that the e3 will (mainly) have games for the rest of year and that we won't get any "mainstream" Mario this year So with that out of the way. LETS PREDICT
the obvious ones
So first of there are some announced games that Nintendo will most likely show. First off there is the new Star Fox coming up. Since it seems to be the "fall 2015 big wii U title" now that Zelda is out of the way I am 100% sure we will see. I am not that big star fox fan myself, but many people love the franchise. That and we know next to nothing about it
The second "obvious " one is the Mario Maker...this seems to become another of the "big" fall Wii U titles, so I think we will get new information about it as well.
For 3ds fans don't worry. Intelligent probably will show new cool details of fire emblem IF. Its the only "big" 3ds title for now, sadly.
Finally there is Yoshi's Wooly World. I think that we are going to see this game as well, even if its pretty close to release.
not only that but we have Smash and Mario Kart 8 DLC. I believe that MK8 will get a third DLC pack with Kirby being one of the new characters (because lets face it: everybody wants Kirby in Mario kart and by that I mean e v e r y b o d y )
But now to the fun part : predicting and theories. I an going to list the "percentage" of these happening. There are popular suggestions, but also a wild card or two.
A new Kirby game (either Wii U or 3ds)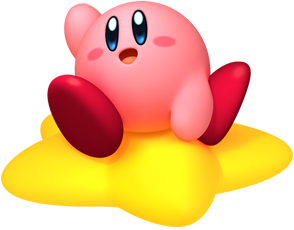 Everybody's favorite pink puffball Kirby is an interesting case. His games arent technically "big" exciting releases, yet they still are one of the most popular ones. I am predicting that we are going to get a new Kirby game soon. I know that Rainbow Curse was released this year and because of this I believe that the next Kirby either will be for 3ds or will be released next year
Now I think that this is quite likely. On one hand Nintendo said that there will only be games that will be released this year on e3. So if we get a new Kirbs next year we probably wont see it
chance of happening: 70%
More information on Miyamoto's projects (project Guard and project Giant Robot)


So we know that Miyamoto has worked on these "secret projects" and last years E3 we saw a glimpse of them. They were interesting concepts, in the other you fought with a giant robot that you made yourself and in the other you looked on security camera...kinda like Five Nights At Freddy's expect not a horror game
. Since E3 we haven't seen any of either of them and some may assume these were just ideas that wont become full games. However...
A month or so ago Nintendo published its financial status (or something like that) and something captured my eye. According it Project giant robot AND project Guard would both be released at fall 2015 (project giant robot at least)...so both of these titles are coming sooner than we thought. Its funny, Nintendo has made a lot of new hardware IPS. First America: the game, then kid/squid madness and now these two are coming on their way. Good Job Ninty, Good job
chance of happening: 80%
A new Animal crossing


Animal crossing is nowadays one of the biggest franchises. Started on Gamcube (technically 64 altho that was Japan.exclusive) Animal Crossing is a beloved life simulator in which you live in a town, befriend animals and pay debt. With such a big title it should be obvious we will get a new one coming, more specifically for Wii U. I don't think I have anything else to say about that.
chance of happening: 80%
Information of Pokken tournament and/or Pokemon Super Mystery Dungeon


Besides Zelda and Mario Pokemon is part of the what I like to call "big three". Many believe that we would get a main series game happening, however I doubt it. That´s because we already have two spinoff titles in works. Pokken Fighters is a Tekken inspired Pokemon fighting game, while Pokemon Super Mystery Dungeon is a new installment in the Pokemon mystery dungeon spinoff series.
The question is tho, will either of these games shown? I have my doubts since PMD seems to be one of the "smaller " releases and Pokken will be arcade exclusive...however Time will tell
chance of happening: 60%
A mew Mario RPG


Another Interesting case that this forum certainly is interested in. Many people believ that a new paper Mario will happen and go to the point of making leaks However I am a bit twofolded...will it happen or will it not... its not sure. On other hand Wii U currently has surprisingly low amount of Mario games so a RPG adventure could fix that lack...on other hand is it just me or has the Paper Mario series an identity crisis...kinda like an Inkling who can't decide whether she is a kid or a squid.
However a friend of mine who you all know (read Falcon Boy) has made an interesting observation: what if Intelligent has a break from PM and we will get a new Mario and Luigi game instead. I guess that makes sense. I mean Intelligent recently released Code Name S.T.E.A.M and are finishing Fire Emblem if so they have been busy already. And as much as I love Intelligent they deserve to take a break and go on vacation sometimes. That and Alphadream has been awfully silent...Unless they're making a Kirby RPG (which is unlikely considering that in an interview AD said they won't do "RPG spinoffs for other IPs") they're probably making a new ML
Chance of happening: 80%
A new Metroid OR F zero game
Now here is something MANY fans want to see, including me. Metroid and F zero are two fan favorite franchises. Sadly F zero has been on hiatus for 11 years and Metroid hasn't gotten a new game since the below mediocre Other M. But since Star Fox (the last member of this "trio") is getting a new game this year I believe that these may happen. However I doubt BOTH of them will happen. Instead I think we will get EITHER a new Metroid or a new F zero
So what do I think will happen? personally I think they have an even chance. There was an interview about (cancelled) Metroid for 3ds but there has also been rumors of upcoming Metroid. F zero on the other hand got AWFULLY lot of references in Mario kart 8. So I guess, time will tell
chance of happening: 70%
A new Punch out
So there has been news that Next Level games is working on a new title aye? While some people think this "new title" will be a Luigi's mansion , I think it may be something else. I think it will be a new Punch out. Why? First off I have this feeling..I mainly think its because of that promo pic Nintendo of America's twitter posted before a pic of Reggie "training" in simlar hoodie like Mac. Plus wouldn't a new Punch out be cool
Chance of happening: 70%
A Nazo No Murasame Jo reboot


Now here is my wild card. As we all know Nintendo LOVES to make surprises.. Seriously did any of you expect something like Splatoon the last year. But because Nintendo has spoiled us with not one, not two but four new intriguing IPs I highly doubt we will get a new one this year. Instead I think that Nintendo's big surprise will be a revival of an old franchise. And I personally think it will be Nazo No Murasame Jo aka Mysterious Murasame Castle. Basically it's an action adventure game with japanese imagery and having a samurai as a protagonist
Out of all the franchises why do I think Nazo No Murasame Jo will be the one that will get a new game? Well there are some reasons. First of during the last couple of years Takamaru (the main protagonist of Nazo No Murasame Jo)has gotten surprisingly a lot of cameos for a B/C tier protagonist. Then there is the fact that at one point he was supposed to be a playable fighter in SSB4 before he was cut for being "too obscure" and made an assist trophy instead. That makes me wonder, was he planned as playable because his game was going to get a new installment. Sakurai himself even said that he wanted to revive old franchises and did he bring old franchise back? No since Little Mac already got a new game for Wii and Duck hunt is more of a "retro weirdo" ala Mr. Game and Watch and ROB. Yes while there are many who believe that a "Duck Hunt Uprising" will happen I personally doubt it. This rises even more questions.
Personally I think a new Nazo No Murasame Jo game would be cool . It would probably be an open world action/adventure game set in feudal Japan...maybe a bit like Zelda but at the same time fresh and different. I would be really intrigued to see that
Also I think that Nazo No Murasame Jo has both extremely low AND extremely high chances...it probably wouldn't happen but if it gets announced I won't be surprised..happy yes, but not surprised
chances of happening: 30%
So those are my predictions. What do you think we will get