Post by Rainvainz on Jun 8, 2015 19:43:31 GMT -5
I have been obsessed lately with this game. Contra 3: The Alien Wars is the most masculine game ever. This game will put hair on your chest, literally. I had three chest hairs when I started playing and now I look like a freaking Sasquatch! All the hairiness aside, this game is the most adrenaline pumping experience on the SNES.
Man, I wish I actually kept the boxes for these games!
This game takes zero time before it becomes chaotic.
Just look at that! Stuff flying everywhere! This game is about aliens attacking Earth and you control a soldier who takes up arms! I have no idea what his name is, but I call him Little Rain.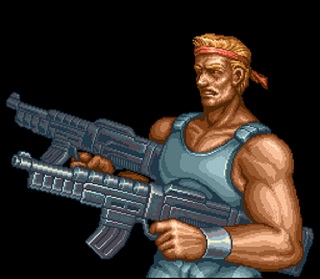 Little Rain is not overcompensating for anything! He is loaded!
This game does not screw around. One hit kills Little Rain. You have extra lives and a few continues, but those run out fast when bosses appear and take up half the screen!
The very first boss!
There are six stages in all, but each stage is pretty long and has multiple parts. The first level alone has a gunning section, a tank section, a napalm-filled death trap, and then a boss fight. Good lord, I do not think Little Rain will ever live long enough to see the end!
Most of the game is a side-scrolling shooter, but 2 stages feature a top-down view that changes the gameplay up in a few ways. I like these sections because you can rotate the camera. This allows me to spray bullets all over the place!
Or I can politely watch this boss spray fire all over the place instead.
Did I mention how insane this game is? One section involves climbing a skyscraper while destroying alien robots and then reaching the top and destroying the mother ship. Another stage involves riding a motorcycle and shooting down flying aliens. Then you hop on a helicopter and ride missiles to fight an aerial boss. You RIDE MISSILES. Wow.
Riding missiles. Best game ever!
The game has some cool weapons: machine gun, laser gun, flamethrower, and a missile launcher. You can hold two at any time, but lose the weapon if you die. The default weapon is the machine gun. All of these weapons can be rapid fired so there is never a reason to stop shooting. You never run out of ammo!
The best part about the game is that it is two player.
Say hello to our little friends!
This means you can bring a friend to the battle. Nothing bonds two friends like killing aliens while riding missiles, you guys.
If you ever get an SNES then check this game out.