Post by Samtendo09 on May 4, 2017 17:31:44 GMT -5
Ladies and gentlemen, Goombas and Koopas, Toads and Yoshis, here is one of the many Paper Mario fangames... and unlike the others, its a TTYD gameplay with a twist!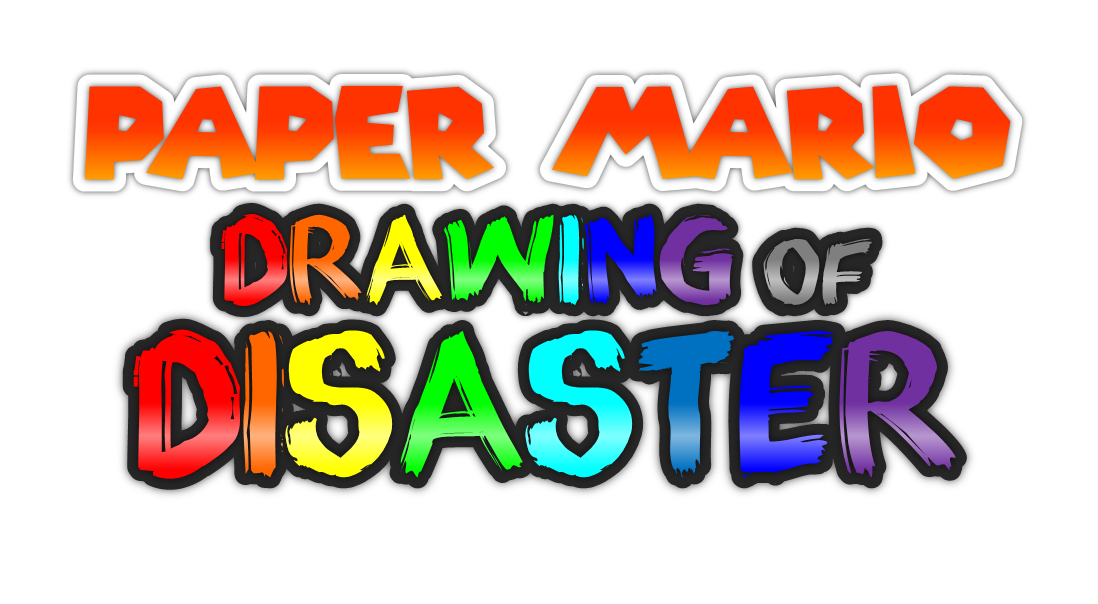 (If the image quality is blurry, then I am sorry.
Here is the more proper image.
Credit goes to EximiusMax from the Fantendo site.)
Most of the game's details are also on the Wikia of origin, Fantendo;
here.
I will only reveal the most important details here.
It returns the gameplay of Paper Mario 64 and TTYD... However, there are some twists in the gameplay!
You now carry up to three different partners in most battles. The enemies got slightly higher HP and some earn an attack to damage all the party to balance it!

Mario and the partners also got their own individual Flower Points. This may sound game breaking at first but...
Each Partner also have their own Team Attack, which cost a lot of FPs. This is useful to quickly damage bosses, or to gain important boost, but use it in a more emergency situations.
Here is the biggest twist; Drawing Attacks from Drawing Cards! I admit that these seems to be taken from Paper Mario: Color Splash, but they are recyclable and thus can be reused. The Super Drawing Attacks, the Things equivalent, are not required to defeat Chapter bosses, but will provide both high damage and an interesting effect from each of them, and the Super Drawing Attacks are mostly from SNES (to represent Super Drawing Attacks), while multiple Drawing Cards are based from NES and Game Boy games.
With that said, each Drawing Attack cost an amount of Drawing Points. You need to use them wisely, but they are mostly for extra arsenal for Mario. Partners cannot perform any of the Drawing Attacks.
The Power Pencil allowing to use (and recycling) is actually living, and it's Rainizia, the Princess of Creation Island. She is a magical Pencilier who is capable to shape-shift into the Power Pencil and her humanoid form.
Bowser will not be a prime antagonist unlike Sticker Star and Color Splash, but will be a secondary antagonist instead.
In fact, our villain of the day will be Monsieur Masteurpiece, who controls clear water called True Water, a liquid from the other dimension (which is the "fleshier" dimension). He resembles the Shake King from Wario Land: Shake It, but this is only a coincidence.
His second-in-commend is the Giant Thief, who is self-explanatory; he is a thief who can become giant and use black magic in order to steal anything that Masteurpiece wanted. But at Chapter 4, he turns out to be someone whom Mario and others faced before... (Before you ask questions, he's actually an OC I made before, from another fangame called Super Mario Team-Mania. Look it up! Hint: It's the antagonist of the game.)
The Level limit is now up to 200. However, the amount of Star Points are limited if you defeat enemies with level lower than yours. On the other hand, you level up way faster if you keep defeating tougher foes!

Mega Enemies; enemies who got giant and now tougher to get in the line of tougher enemies. They gain from +1-3 ATK and +1-2 DEF, and up to +20 HP. They also give out a large amount of Star Points and Moon Spheres!

Moon Spheres are those needed to Rank Up your Partners, or to give them a temporary boost on ATK or DEF for the three next battles.
Speaking of Partners, there will be three returning from TTYD and nine new ones, making twelve in all. There will also be twelve chapters; eight regular, and four post-end.
Returning Partners will be Goombella (Prologue), Yoshi Kid (Chapter 3) and Vivian (Chapter 9/Post-end 1).
Bloopelly, a Blooper who is made by Monsieur Masteurpiece before being deemed as "too grotesque and treacherous", while the grotesque part may be just from Bloopelly's cybernetic part. He is recruited in Chapter 1.
Cloudine, a lone Lakitu's Cloud searching for her Lakitu friend. Her taste of fashion and adventure may conflict, but she can keep it up to help out Mario and friends. Recruited in Chapter 2.
Ostralena, an Ostro who is both rapid and rabid for a maid. Mostly thinking of herself and to enjoy Badbuss Goldubba, she ended up to regret her decisions and help out Mario. Recruited in Chapter 4.
Pirlumbus, a walking Piranha Plant that, like Kolorado, is an archaeologist. He loves discoveries as well as exotic foods. He is a bit eccentric, but also know a lot about ancient ruins and other ancients places, including those that even Goombella didn't know before. Recruited in Chapter 4.
Secro Spy Guy, also simply known as Secro, is a Spy Guy who got difficult time with General Guy does to being too quiet until Ostralena had him open up about why it is important to speak. Recruited in Chapter 5.
Nakitta, a Noki who works with her family in a farm until Lumaloo the Kid and Aboomina Slim wrecked it. Her talent with her conch shell allows to not only sleep the enemies, but also smoother aggressive NPCs and activate some music boxes. Recruited during Chapter 6.
Marley Froozen, aka just Froozen, is a Yukimaru whom hated his job does to Bowser's mistreatment to him and his fellow Yukimarus. He is cool and collected, but also know when to hold back. Recruited in Chapter 7, but is optional.
Skotty, a Skittler whom got shooed away by rude Bowser's Power Plant employees. He is willing to help the environment and also poor people, and that power plant follows none of that. Recruited in Chapter 7, and unlike Marley, he is required.
Krushok, a Krusha whom a sailor. He is all about training to get stronger, and starts to appear at Chapter 5. He may be short tempered, but he means well and become embarrassed if he scared people away. Recruited upon reaching Chapter 5, but recommended to fight him at around Level 70 does to his toughness!