Post by Rainvainz on May 9, 2015 10:45:34 GMT -5
Today's villain does not make favorite lists too often, but I find this character so unsettling because of his demeanor. I am talking about Doc Gerbil!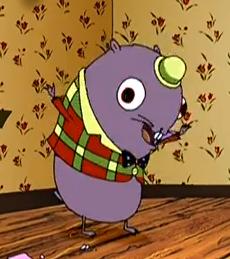 He look so friendly!
This guy is calculating and that is what makes him so scary! He is truly a scientist who experiments on humans, but poses as a vacuum cleaner salesman in order to gain entry to the farm house where Courage lives. What is it with vacuum cleaners and the supernatural? E. Gadd is like a good version of Doc Gerbil!
Doc Gerbil then uses his vacuum cleaner to suck up Eustace and Muriel and they become trapped in a lint-filled vacuum world where they meet another victim who Doc Gerbil trapped and experimented on. She is an old woman with plungers attached to her body instead of hands and feet! Good God, Doc Gerbil is SICK!
Doc Gerbil seems to have sympathy for animals, however. He tell Courage that he is free now that his owners are gone and leaves the farm house to take his new science subjects back to his lab to experiment. Courage follows him and ends up in a Willy Wonka style lab that looks like an amusement park. Doc Gerbil's lab ever has its own theme that repeats the catchy and annoying phrase "Its Doc Gerbil's World" over and over again, much to Courage's chagrin.
Courage is not amused.
Meanwhile, Doc Gerbil experiments on Muriel and Eustace by applying his various cosmetics that cause the subjects to expand and explode! He does this multiple times to Muriel and Eustace while laughing like a maniac! Courage finally find them and escapes with them by putting them in the vacuum and jumping on a boat in order to flee the lab by floating down a river. Doc Gerbil hops on a jet ski to chase Courage.
This leads to the most bizarre chase scene in history as a pink dog with a vacuum flees from a mad scientist gerbil on a jet ski. This is made even more dramatic by a haunting opera theme playing in the background to help add some drama. This is one of the best themes in all of Courage and this scene is one of my favorites because of the theme alone. Courage notices that he is about to fall over a water and uses the Vacuum to suck himself over to draw land as Doc Gerbil plummets over the waterfall. The day is saved!
Doc Gerbil made me afraid to answer my door, especially if somebody wanted to sell me something. The most terrifying part is that he has done this before! He has TONS of finished experiments and has the whole kidnapping scheme down to a science (Ha!). He has to be a serial killer by this point. That is why he makes this list! This is, without a shadow of a doubt, Doc Gerbil's World!