Post by Rainvainz on May 12, 2015 9:43:11 GMT -5
Today's villain is a zombie, a serial killer, and most importantly, a movie director! He is the famous Benton Tarentella!
Totally NOT a zombie!
Now, Benton appears in two episodes, but I will talk about his debut episode because it remains one of the most disgusting, and disturbing ideas in the series. Benton, in life, was a movie director who would travel the world looking for regular people to be stars in his movies. He would promise them with riches and fame. The bad part is that all his movies were snuff films where he and his partner, Errol Von Volkheim, murdered 12 people over a period of time and filmed the grisly acts! That's right, Benton Tarentella and his partner might be the first serial killers in children's television. Oh, and they were executed and that is why they are zombies.
He visits the farm house one night and knocks on the door. The family answers and Benton introduces himself and explains that he wants the family to be in his next film. What is his film titled? The Return of The Zombies From Beneath The Farm! Yeah, this sounds bad. Benton promises lots of money to Eustace to get him to cooperate. He promises fame to Muriel. Courage does not trust him and even notices that he is a zombie when Benton's fake nose falls off! Benton decides that the basement is the best place for his film and the family go downstairs. Of course, all of the best snuff films are in basements!
Courage tries to warn his family over and over again, but gets locked in a trunk. Benton has the family dig a hole in the basement soil and then opens the cellar door to reveal a full moon with its light shining down to where the hole is. This is all a plan to revive his partner Van Volkheim from the grave, which happens to be under the farmhouse.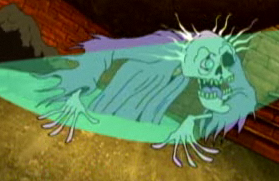 The zombies tie Muriel to a table for the scene where the zombies eat their victim. WOW. He tells Eustace to be the cameraman and film the murder, which Eustace believes is just special effects. Man, this is dark. Making a husband film his own wife's slaughter! Courage finds the script and pulls it into the trunk to make some rewrites. Apparently, Benton's weakness is that he must always follow a script. Courage writes for the zombies to go back into the hole and get buried. As the zombies crawl into the hole they start to argue. Benton claims that the script is not his work! Courage buries them and all is saved! That was quite a humorous end to such a dark episode.
Benton is such a good villain because he preys on the weakness of others. He appeals to their desires to be rich and famous. He even has his victims take part in their own murder by acting in the movie and filming their death! This guy is truly evil.