Post by Rainvainz on May 16, 2015 11:22:46 GMT -5
We have finally arrived at the final villain on the list. This villain scared me more than any other villain because of his eccentric, deceptive, and downright nightmarish actions. All of the villains to this point were evil, especially Katz, but I liked all of them in some way and they did not completely scar me and make me afraid of objects in real life. Today's villain makes me afraid, very afraid! I am talking about The Great Fusilli!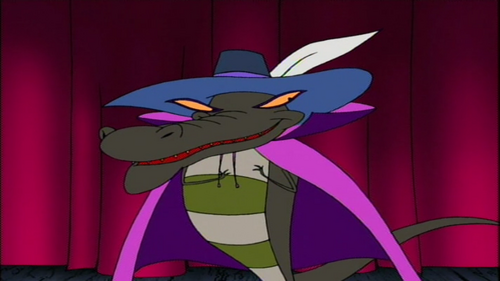 He looks like a Kremling reject!
This guy has always terrified me. His voice is so sinister, but oddly soothing with his accent. This aids him as he travels the world with his theater stage. He appears at the farmhouse and gets Muriel and Eustace to get on stage and put on acts. That's right, The Great Fusilli is so convincing thta he even gets Eustace to join in on the act!
The Great Fusilli's stage is what makes his character so sinister. The stage gradually takes over the actors who perform upon it and eventually turns them into puppets or marionettes. The Great Fusilli eggs on the actors to remain on stage and to become one with the stage. He basically feeds them to his stage.
Light! Camera! Damnation!
The worst part is that Courage eventually finds a room FULL of puppets backstage. At first this seems benign as the stage and its powers have not been revealed at that moment. Upon learning that the stage turns its victims into puppets I cannot help but wonder if those backstage puppets are actually the corpses of past victims silently hanging there forever locked in their wooden and empty shells
Locked in a stage (HA!) of eternal torment!
The Great Fusilli eventually falls victim to his own powers as he falls onto the stage and becomes mesmerized by the thrill of the stage. He gets turned into a puppet.
Hoisted by his own petard, indeed!
However, the episode ends on a dark note with Eustace and Muriel trapped as puppets. This is followed by a scene at the farmhouse where Courage acts out his daily life by pulling the string of his owner's puppets in order to make them talk and act like their usual selves. Courage basically falls off the deep end, but tries to salvage his prior life.
He even acts out Eustace's abusive behavior!
This was the season one finale too, so this is how the series would have ended if it did not get picked up for more seasons. I hope you all enjoyed the countdown of my best Courage villains! Oh, and I am forever afraid of puppets now! This episode and villain did that to me! Well, that and this guy: